A clinical study on lens-induced glaucoma and its visual outcome after cataract surgery at Tertiary Eye Care Center in Western Maharashtra
Dr. Bhandari Akshay Jawahirlal

Associate professor, Department of Ophthalmology, Rural Medical College, Pravara Institute of medical sciences, Loni

Dr. Bhandari Dipti Akshay

Senior resident, Department of Ophthalmology, Rural Medical College, Pravara Institute of medical sciences, Loni

Dr. Kishor Badhe

Professor, Department of Ophthalmology, Rural Medical College, Pravara Institute of medical sciences, Loni

Dr. Waman Chavan

Professor, Department of Ophthalmology, Rural Medical College, Pravara Institute of medical sciences, Loni
Keywords:
Lens-induced glaucoma, Cataract, Phacomorphic glaucoma, Phacolytic glaucoma, Visual outcome
Abstract
Introduction: Lens-induced glaucomas (LIG) are a common occurrence in rural areas of India. It has long been recognized clinically that several forms of glaucoma may occur in association with the formation of cataracts, which are an important cause of secondary glaucoma in the developing world. The present study has endeavored to determine the characteristics, risk factors, and their consequences on the postoperative visual outcome, intraocular pressure (IOP), including optic disc changes in lens-induced glaucoma.
Purpose: To study the demographics, clinical presentations of different types of LIG, and its surgical outcome in terms of visual acuity and IOP control after cataract surgery.
Material and methods: This prospective study was conducted in the Ophthalmology department at Tertiary eye care center in Western Maharashtra from January 2015 to December 2019.
Patients visiting the Hospital with classical symptoms of LIG were taken into study. All these patients underwent a complete ocular examination using Slit lamp biomicroscopy, Schiotz tonometry and Applanation tonometer. These patients were operated after explaining the possible prognosis by Small Incision Cataract Surgery (SICS) with PCIOL implantation.
Results: Total of 194 patients were taken into this study in which 88 (45.36%) were male patients and 106 (54.64%) were Female. Among different LIG patient's maximum patients had Phacomorphic Glaucoma accounting 61.86% (120 patients) and Phacolytic Glaucoma 37.11% (72 patients). Subluxated glaucoma was seen in 2 cases (1.03%). The majority of patients 61.86% presented after 1 week of symptoms and the reason for late presentation in more than half of the patients were financial constraints. Visual acuity was either hand-movement or just perception of light in the majority of the eyes at the time of presentation. At last, follow-up 12 cases (6.19%) had best-corrected visual acuity of more than 6/12.
Conclusion: Good visual acuity can be achieved in lens‑induced glaucoma presenting within 1 week, with intraocular pressure of <35 mm of Hg and with meticulous control of intraocular pressure and inflammation with medications preoperatively.  Necessary steps should be taken to educate especially the rural population of India, the importance of timely surgery for the better visual outcome and the dangers of poor visual results if cataract surgery is delayed.
Downloads
Download data is not yet available.
References
H. Gifford, "The dangers of the spontaneous cure of senile cataract," American Journal of Opthalmology, vol. 17, pp. 289– 293, 1900.
Von Reuss, Centralblatt f ̈ur Praktische Augenheilkunde, vol. 24, p. 33, 1900
Duane TD, Jaeger EA. Duane's Ophthalmology 2005 CD ROM Edition.Philadelphia, Pennsylvania: Corporate Technology Ventures; 1999.
Albert DM, Jakobiec FA. Principles and Practice of Ophthalmology on CD ROM. Philadelphia: Media Solutions Corporation; 1995.
Ritch R, Sheild MR, Krupin T. The Glaucomas Clinical Sciences. 4th ed.Mosby St. Louis: St.Louis,Mo: Mosby:1996.
Krishnadas R, Ramakrishnan R. Secondary glaucomas: The tasks ahead.Community Eye Health 2001;14:40 2.
Podhorecki J, Munir A. Result of operations for hyper mature cataract complicated with phacolytic glaucoma. Klin Oczna 2002;104:350 3.
Zhang J, Guo L, Wang L. A study on the treatment of secondary glaucoma due to intumescent senile cataract. Zhonghua Yan Ke Za Zhi2001;37:359 62
Smith GT, Vakalis AN, Brittain GP, Casswell AG. Vitrectomy for phacolytic glaucoma in a patient with homocystinuria. Am J Ophthalmol1999;128:762 3.
Jaffe NS, Jaffe MS, Jaffe GF. Cataract Surgery and its Complications.6th ed. Mobsy, St. Louis: Mo; Mosby:1997.
Lane SS, Kopietz LA, Lindquist TD, Leavenworth N. Treatment of phacolytic glaucoma with extracapsular cataract extraction.Ophthalmology 1988;95:749 53
N Venkatesh Prajna, R Ramakrishnan, R Krishnadas, N Manoharan et al: Lens induced glaucoma visual results and risk factors for final visual acuity: Indian J Ophthalmol [serialonline] 1996 [cited 2015 Jun 24 ]; 44: 149155
Yaakub A, Abdullah N, Siti Raihan I, Ahmad Tajudin LS.: Lens-induced glaucoma in a tertiary center in the northeast of Malaysia. Malays Fam Physician 2014; 9(2): 48-52.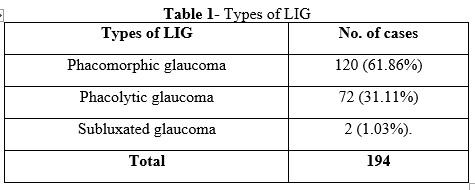 CITATION
DOI: 10.26838/MEDRECH.2021.8.6.576
How to Cite
1.
Bhandari AJ, Bhandari DA, Badhe K, Chavan W. A clinical study on lens-induced glaucoma and its visual outcome after cataract surgery at Tertiary Eye Care Center in Western Maharashtra. Med. res. chronicles [Internet]. 2021Dec.23 [cited 2023Feb.9];8(6):558-64. Available from: https://medrech.com/index.php/medrech/article/view/563
Section
Original Research Article