Keratolytic and anti-inflammatory action of salicylic acid in patients with seborrheic dermatitis associated with psoriasis, cases report
Wilfredo José Molina Wills

school of medicine of the University of the Andes Venezuela

Dr Vanessa Rodriguez

Private practice
Keywords:
Keratolytic, anti-inflammatory action, salicylic acid
Abstract
Objectives: The objective was to evaluate the keratolytic and anti-inflammatory action of salicylic acid in two reported cases of patients with seborrheic dermatitis associated with psoriasis.
Methods: Clinical photographs of the frontal region and retro headset were taken with a digital camera olimpus SP570UZ with master software 2.0. The images obtained both in the initial phase of the study and at the 24 hours of treatment were transferred and stored on a 4-core Sansung computer. Image J software was used to measure the area selected for the study in both cases. This measurement was made in pixels for the photographic region under study. Aspects such as the presence of erythematous scales, inflammatory zones, hyperkeratosis, or scabs were evaluated before and after treatment.
Results: Case 1 showed a 48.89% reduction in the affected area after 24 hours of treatment. Case 2 showed a 52.98% reduction at 24 hours of treatment. Conclusions: The keratolytic and anti-inflammatory action of salicylic acid was evident in this case report.
Downloads
Download data is not yet available.
References
-Cuella L, Sehtman A, Donatti L, Allenato M (2008), Salicylic acid, act terap dermatol, 31: 108.
-Clark C (2007), scalp problems in the pharmacy, The pharmaceutical journal, vol 278, pp 431-434.
-Draelos ZD (2005), An evaluation of topical salicylic acid and 1% hydrocortisone in the maintance of scalp pruritus; j cosmet dermatol, 4(3): 193-7.
-Larrondo J, Larrondo M, Rubén J, Larrondo L, Aymée R and Hernandez L (1977), dermatological form for the family doctor, Cuban reva med gen integr, vol 13, n 5.
-Bilgili ME, Yildiz H, Sarici G (2013), prevalence of skin diseases in a dermatology outpatient clinic in Turkey, 7, 108-112.
-Gupta AK (2004), seborrheic dermatitis, JEADU, 18: 13-26.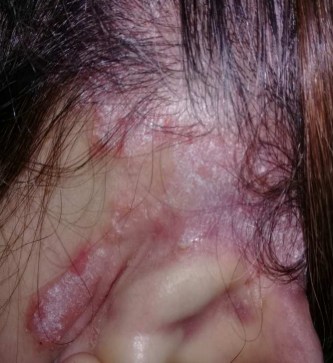 CITATION
DOI: 10.26838//MEDRECH.2020.7.4.437
How to Cite
1.
Wills WJM, Rodriguez V. Keratolytic and anti-inflammatory action of salicylic acid in patients with seborrheic dermatitis associated with psoriasis, cases report. Med. res. chronicles [Internet]. 2020Sep.6 [cited 2021Oct.21];7(4):170-6. Available from: https://medrech.com/index.php/medrech/article/view/437