Cardio-diabetic protective effect of Telmisartan
Shiladitya Nandi

6A, Ballygunge Place, Kolkata-700019

Sourav Nag

Purbachal, Barasat,Near Narayan Hridhlay,Kolkata-700124

Trinanjan Ash

60/1 Swami Sibananda Road, Choudhury Para, P.O-Barasat, Ps-Barasat, Kolkata-700124

V Chandra Shekhar

Satyanarayana Clinic. Beside Ekashila Park. Balasamudram. Hanamkonda
Keywords:
Telmisartan, antihypertensive, Diabetes, PPARγ receptor
Abstract
The antihypertensive drugs that are being used currently were primarily designed and developed to affect cellular and biochemical mechanisms that lead to increased blood pressure and do not address the underlying contributory factors like, disordered carbohydrate and lipid metabolism that often accompanies hypertension as part of the metabolic syndrome. The metabolic syndrome eventually leads to co-morbid conditions i.e., hypertension and type 2 diabetes mellitus. Both these conditions mechanistically share the common pathophysiological pathways in people who suffer from metabolic syndrome. PPAR-γ plays an important role in regulating carbohydrate and lipid metabolism and ligands for PPAR γ can improve insulin sensitivity, reduce triglyceride levels, and decrease the risk for atherosclerosis. Telmisartan is a well-established angiotensin II type 1 receptor (AT1) blocker along with an activator of the PPARγ receptor. Telmisartan has several pharmacological properties that distinguish it from other ARBs, like, the structural resemblance with pioglitazone which is a PPARγ ligand that is approved for the treatment of type 2 diabetes. Thus, telmisartan seems to be a suitable candidate for the management of CV risk reduction in patients with atherothrombotic disease or diabetes mellitus with end-organ damage. This article will discuss the mechanistic aspect of telmisartan that supports its utility in cardiac protection along with the outcome of different clinical trials.
Downloads
Download data is not yet available.
References
Benson SC, Pershadsingh HA, Ho CI, et al. Identification of Telmisartan as a Unique Angiotensin II Receptor Antagonist with Selective PPARγ-Modulating Activity. Hypertension. 2004;43(5):993-1002. doi:10.1161/01.HYP.0000123072.34629.57
Gleissner CA, Galkina E, Nadler JL, Ley K. Mechanisms by which diabetes increases cardiovascular disease. Drug Discov Today Dis Mech. 2007;4(3):131-140. doi:10.1016/j.ddmec.2007.12.005
Shiota A, Shimabukuro M, Fukuda D, et al. Activation of AMPK-Sirt1 pathway by telmisartan in white adipose tissue: A possible link to anti-metabolic effects. Eur J Pharmacol. 2012;692(1-3):84-90. doi:10.1016/j.ejphar.2012.07.026
Arumugam S, Sreedhar R, Thandavarayan RA, et al. Angiotensin receptor blockers: Focus on the cardiac and renal injury. Trends Cardiovasc Med. 2016;26(3):221-228. doi:10.1016/j.tcm.2015.06.004
Barzilay JI, Gao P, Rydén L, et al. Effects of telmisartan on glucose levels in people at high risk for cardiovascular disease but free from diabetes: The TRANSCEND study. Diabetes Care. 2011;34(9):1902-1907. doi:10.2337/dc11-0545
Inoue T, Morooka T, Moroe K, Ikeda H, Node K. Effect of telmisartan on cholesterol levels in patients with hypertension - Saga Telmisartan Aggressive Research (STAR). Horm Metab Res. 2007;39(5):372-376. doi:10.1055/s-2007-976544
Kubik M, Chudek J, Adamczak M, Wiecek A. Telmisartan improves cardiometabolic profile in obese patients with arterial hypertension. Kidney Blood Press Res. 2012;35(4):281-289. doi: 10.1159 /000334951
Takagi H, Niwa M, Mizuno Y, Goto SN, Umemoto T. Telmisartan as a metabolic sartan: The first meta-analysis of randomized controlled trials in metabolic syndrome. J Am Soc Hypertens. 2013;7(3):229-235. doi:10.1016/j.jash.2013.02.006
Sasaki T, Noda Y, Yasuoka Y, et al. Comparison of the effects of telmisartan and olmesartan on home blood pressure, glucose, and lipid profiles in patients with hypertension, chronic heart failure, and metabolic syndrome. Hypertens Res. 2008;31(5):921-929. doi:10.1291/hypres.31.921
Chang WT, Cheng JT, Chen ZC. Telmisartan improves cardiac fibrosis in diabetes through peroxisome proliferator-activated receptor δ (PPARδ): From bedside to bench. Cardiovasc Diabetol. 2016;15(1):1-9. doi:10.1186/s12933-016-0430-5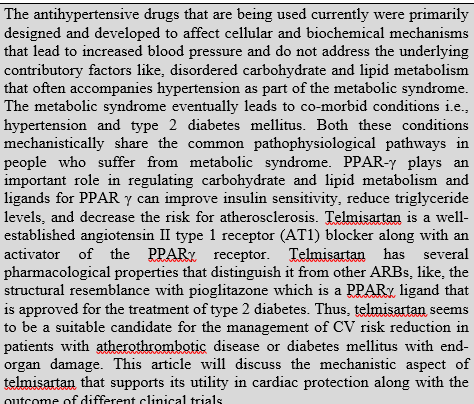 CITATION
DOI: 10.26838/MEDRECH.2020.7.6.461
How to Cite
1.
Nandi S, Nag S, Ash T, V Chandra Shekhar. Cardio-diabetic protective effect of Telmisartan. Med. res. chronicles [Internet]. 2021Jan.12 [cited 2021Jan.22];7(6):366-70. Available from: https://medrech.com/index.php/medrech/article/view/461