Anthropometrical variations in cephalic index in Indian medical students and its relation with sex
Dr. Nuzhat Bashir

1. Demonstator, Department of Anatomy, SKIMS Medical College, Bemina Srinagar, India

Dr. Ashfaq ul Hassan

2. Associate Professor & H.O.D Department of Anatomy SKIMS Medical college Bemina , Srinagar, India

Dr. Aijaz Ahmad Patloo

Demonstator, Department of Anatomy, Government Medical College,Srinagar, India
Keywords:
Skull, Cephalic, Diameter, Nasal, Orbit, Chin, Cheek, Zygoma, index
Abstract
Introduction: Cephalic index is useful anthropologically for deciding the race and sex of an individual as it is greatly affected by age, sex, geographical factors.
Material and methods: In the present study, 90 medical students were taken as subjects and head length, head breadth, and cephalic index were measured. Aim: To study anthropometrical variations in the cephalic index in Indian medical students and its relation with sex.
Results: Indian males had a mean cephalic index of 78.01 and they were mesocephalic and females had a mean cephalic index of 81.41and were brachycephalic.
Conclusion: The data is important in forensic medicine, anthropology, genetics, and the identification of individuals.
Downloads
Download data is not yet available.
References
Bhargava I &Kher GA. An anthropometric study of central India Bills of Dhar district of Madhya Pradesh. J Anat Soc India 1990; 9:14-19.
Bhargava I &Kher GA. A comparative anthropometric study of Bils and Barelas of central India. J Anat Soc India 1991; 10:26-33.
Basin MK. Genetics of castes and tribes of India. Somatometry.Int J Hum Genet 2006; 6:323-56.
Vojdani Z et al.Cephalometry in 14-18 years old girls and boys of shiraz- Iran high school.Int J Morphol 2009; 27:101-104.
Shah GV and Jadhav HR.The study of the cephalic index in students of Gujarat. J Anat Soc India2004;53(1):25-26.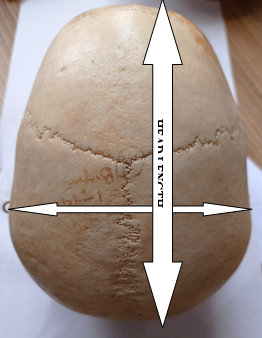 CITATION
DOI: 10.26838/MEDRECH.2021.8.1.475
How to Cite
1.
Bashir N, Hassan A ul, Patloo AA. Anthropometrical variations in cephalic index in Indian medical students and its relation with sex. Med. res. chronicles [Internet]. 2021Jan.23 [cited 2021Apr.20];8(1):27-1. Available from: https://medrech.com/index.php/medrech/article/view/475
Section
Original Research Article