Vitamin C as a non-surgical gingival depigmentation agent – Case study
Sanadi Rizwan M

Professor, Department of Periodontics, Dr GD Pol Foundation's YMT Dental College, Kharghar, Sector – 4, Navi Mumbai

Deshmukh Revati S

Professor & PhD Guide, Head of Department of Oral Pathology & Microbiology, Bharati Vidyapeeth Deemed to be University, Dental College & Hospital, Satara Road, Katraj, Dhankawadi, Pune
Keywords:
Gingival melanin hyperpigmentation, Vitamin C, melanin, tyrosinase, gingival depigmentation
Abstract
The teeth and gums (gingiva) are an important component of an aesthetic smile. Gingival melanin hyperpigmentation results in an unaesthetic smile, especially in individuals with a gummy smiles. Vitamin C is a water-soluble vitamin that is essential for the growth and maintenance of healthy bones, teeth, gums, ligaments, and blood vessels and is involved in important metabolic functions. It has been used for the depigmentation of hyperpigmented spots on the skin. There is limited documentation on the use of Vitamin C as a depigmenting agent for gingival melanin hyperpigmentation. This article discusses the application of Vitamin C as a non-surgical gingival depigmentation agent.
Downloads
Download data is not yet available.
References
Svirbely J, Szent-Gyorgyi A. The chemical nature of vitamin C. Biochem J. 1932; 26: 865–870.
Walingo KM. Role of vitamin c (ascorbic acid) on human health - a review. African J of Food Agriculture & Nutrition Development 2005; 5(1): 1-12.
Smirnoff N, Conklin PL, Loewus FA. Biosynthesis of ascorbic acid in plants: A renaissance. Annu Rev Plant Physiol Plant Mol Biol 2001; 52: 437–67.
Linster CL, Van Schaftingen E. Vitamin C: Biosynthesis, recycling, and degradation in mammals. Journal of Federation of European Biochemical Sciences (FEBS J) 2007; 274: 1–22.
Sheraz MA, Ahmed S, Ahmad I, Shaikh RH, Vaid FH, Iqbal K. Formulation and stability of ascorbic acid in topical preparations. Syst Rev Pharm 2011; 2: 86-90.
Yussif NM, Zayed SO, Hasan SA, Sadek SS. Evaluation of injectable Vitamin C as a depigmenting agent in physiologic gingival melanin hyperpigmentation: A clinical trial. Rep Opinion 2016; 8(6): 113-20.
Telang PS. Vitamin C in dermatology. Indian Dermatol Online J 2013; 4: 143-6.
Farris PK. Cosmetical Vitamins: Vitamin C. In: Draelos ZD, Dover JS, Alam M. Editors. Cosmeceuticals Procedures in Cosmetic Dermatology. 2nd Edn. New York: Saunders Elsevier; 2009: 51‑6.
Talakoub L, Neuhaus IM, Yu SS. Cosmeceuticals. In: Alam M, Gladstone HB, Tung RC, editors. Cosmetic dermatology. Vol. 1. Requisites in Dermatology. 1st Edn. Gurgaon: Saunders Elsevier; 2009: 13‑4.
Sheel V, Purwar P, Dixit J, Rai P. Ancillary role of Vitamin C in pink aesthetics. British Med J Case Rep 2015; 65: 27-31.
Shimada Y, Tai H, Tanaka A, Ikezawa-Suzuki I, Takagi K, Yoshida Y et al. Effects of ascorbic acid on gingival melanin pigmentation in vitro and in vivo. J Periodontol 2009; 80: 317-323.
Yussif NM, Abdel Rahman AR, Elbarbary E. Minimally invasive non-surgical locally injected Vitamin C versus the conventional surgical depigmentation in treatment of gingival hyperpigmentation of the anterior esthetic zone: A prospective comparative study. Clinical Nutrition Experimental 2019; 24: 54-65.
Roshni T, Nandakumar K. Anterior Esthetic Gingival Depigmentation and Crown Lengthening: Report of a Case. J Contemp Dent Pract 2005; 3: 139-147.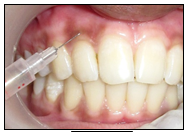 CITATION
DOI: 10.26838/MEDRECH.2020.8.2.483
How to Cite
1.
M SR, S DR. Vitamin C as a non-surgical gingival depigmentation agent – Case study. Med. res. chronicles [Internet]. 2021Apr.22 [cited 2021May16];8(2):74-8. Available from: https://medrech.com/index.php/medrech/article/view/482