Keeping the knife sharp!
Dr. Vishal Soni

Laparoscopic Gastro-Intestinal Surgeon, Department of Surgical Gastroenterology, Zydus Hospital, Ahmedabad, Gujarat. India

Dr. Krunal Soni

Orthopedic Surgeon, Assistant Professor, Department of Orthopedics, B.J. The medical college and Civil Hospital, Ahmedabad, Gujarat, India

Dr. Himanshu Soni

Oral and Maxillofacial Surgeon, Fellow in Cranio-Maxillo-Facial Trauma Surgery – AOMSI, Fellow in Head and Neck Surgical Oncology – FHNO, Mahatma Gandhi Cancer Hospital, Miraj, Maharashtra. India
Keywords:
Surgery, Covid-19 pandemic, orthopedic implantation
Abstract
Being a Surgeon, even a trainee, has been a painful experience in the ongoing pandemic days, versus the world of yesterday1. The pandemic has crippled & strangulated many surgical branches due to paucity of volumes e.g., Plastic - Cosmetic Surgery, Orthopedics, Joint Replacement, Ortho-Trauma, Transplant Surgery, Elective Abdominal Surgeries like Hernia – Abdominal Wall Reconstruction, Ophthalmology, etc. are the worst affected. This article is about challenges faced by the surgeons involved in more elective surgeries and how they can & should survive the current catch-22 situation.
Downloads
Download data is not yet available.
References
Kibbe MR. Surgery and COVID-19. JAMA. 2020;324(12):1151–1152. doi:10.1001/jama.2020.15191
Saraswathula A, Gourin CG, Stewart CM. National Trends in US Otolaryngology Surgical Volume During the Early COVID-19 Pandemic. JAMA Otolaryngology Head Neck Surg. 2021;147(4):397–399. doi:10.1001/jamaoto.2020.5472
The Lancet Rheumatology, Too long to wait: the impact of COVID-19 on elective surgery, The Lancet Rheumatology, Volume 3, Issue 2, 2021, Page e83, ISSN 2665-9913,
https://www.aaos.org/globalassets/about/covid-19/research/covid-19-surgical-volume-impact-survey-final.pdf
https://www.businesstoday.in/current/economy-politics/economic-survey-2020-21-insurance-penetration--extremely-low-at-376/story/429507.html
https://indianexpress.com/article/cities/mumbai/bmc-orders-takeover-of-beds-in-private-hospitals-nursing-home-for-covid-treatment-7250694/
https://joacp.org/temp/JAnaesthClinPharmacol363291-6650658_182826.pdf
Lee, J., Choi, J. Y., & Kim, M. S. (2020). Elective surgeries during the COVID-19 outbreak. British Journal of Surgery. doi:10.1002/bjs.11697
https://fortune.com/longform/coronavirus-uber-ipo-business-model-ceo-fortune-500/
https://www.forbes.com/sites/deniselyohn/2020/11/10/how-airbnb-survived-the-pandemic--and-how-you-can-too/?sh=72897c0c9384
Vishal Soni. "Tele-Medicine: Creating the Uber of Healthcare!". EC Pediatrics 9.9 (2020): 84-85.
https://www.mckinsey.com/industries/healthcare-systems-and-services/our-insights/cutting-through-the-covid-19-surgical-backlog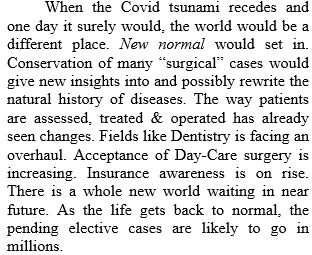 CITATION
DOI: 10.26838/MEDRECH.2020.8.3.504
How to Cite
1.
Soni V, Soni K, Soni H. Keeping the knife sharp!. Med. res. chronicles [Internet]. 2021May12 [cited 2021Jun.19];8(3):149-53. Available from: https://medrech.com/index.php/medrech/article/view/496
Section
Short Communication