Knowledge about the risk factors and sign-symptoms of cardiovascular diseases among the patient's attendants at a specialized hospital in Bangladesh
Lt Col(Dr.) Sohel Hasan Chowdhury

Dr. Royena Tabassum

Dr. Rebeaka Tarannum

Prof. Shafiqul Kabir
Keywords:
Knowledge, Risk factors, Prevention, CVD, HTN, CAD
Abstract
Background: Now a day, cardiovascular disease (CVD) is a very common disease in Bangladesh. Hypertension is the most widely prevalent, largely preventable risk factor for CVD accounting for half of the deaths due to ischaemic heart disease and stroke. Therefore, due to CVD and CKD, uncontrolled hypertension has huge implications for the disease burden. In today's world, awareness among people about the risk factors, signs symptoms, and prevention of CVD is considered as one of the most potent components in saving people from huge mortalities and morbidities of CVD. Aim of the study: The present study aimed to assess the knowledge about the risk factors and sign symptoms of cardiovascular diseases among the patient's attendants in the NICVD (National Institute of Cardiovascular Disease) Dhaka, Bangladesh. Methods: This was a cross-sectional study. The study was conducted at a National Institute of Cardiovascular Disease (NICVD) in Dhaka, Bangladesh in collaboration with the Department of Public Health, Northern University, Dhaka, Bangladesh during the period from September 2017 to December 2017. Properly written consent was taken from all the participants before starting data collection. A pre-designed questioner was used to collect data. All the results were calculated with the help of a computer by using the SPSS 22.0 version. Data were presented according to the variable of the study and shown in percentage. Results: In this study maximum, 83.2% of respondents knew the risk factor of CVD but 16.8% had not. Among the total participants, the major risk factor of CVD hypertension was defined by 80%, smoking by 73%, alcoholism by 53%, DM by 50%, high fat diet by 52%, and family history of diabetes by 34% of respondents. The maximum, 79.2% respondents had the idea of the sign-symptoms of CVD whereas 20.9% had not. As sign/symptoms maximum, 94% of respondents defined chest pain as the major whereas 48% defined shortness of breathing, 39% defined sweating, 36% defined vomiting and 12% defined swelling as the sign/symptoms of CVD. This study revealed that 55.4% of respondents had knowledge regarding the prevention of CVD but 26.7% had not. Conclusion: The knowledge about the risk factors and significant symptoms of cardiovascular diseases (CVD) among the patient's attendants in Bangladesh may not be considered satisfactory. So, there are many scopes to do more works on awareness development about CVD among the general population in Bangladesh.
Downloads
Download data is not yet available.
References
1. 2011–2015. Directorate General of Health Services, Ministry of Health and Family Welfare; Dhaka: August 2011.
2. Department of Public Health and Primary Care, University of Cambridge. High-risk Hearts: A South Asian Epidemic. [homepage on the Internet] c2013 [cited 2013 Jul 3]. Available from: http://www.phpc.cam.ac.uk/blog/high-risk-hearts-a-south-asian-epidemic.
3. Enas EA., Senthilkumar A. Coronary artery disease in Asian Indians: an update and review. Int J Cardiol. 2001;1(2)
4. Malik A. Congenital and acquired heart diseases (a survey of 7062 persons) Bangladesh Med Res Counc Bull. 1976; II:115–119. [PubMed]
5. AhsanKarar Z., Alam N., Kim Streatfield P. Epidemiological transition in rural Bangladesh, 1986–2006. Glob Health Action. 2009:2. [PMC free article] [PubMed]
6. Gupta M., Singh N., Verma S. South Asians and cardiovascular risk: what clinicians should know. Circulation. 2006;113: e924–e929. [PubMed]
7. Shah A., Hernandez A., Mathur D. Adipokines and body fat composition in south Asians: results of the Metabolic Syndrome and Atherosclerosis in South Asians Living in America (MASALA) study. Int J Obes (Lond) 2012; 36:810–816. [PubMed]
8. Chowdhury AH., Zaman M.M., Haque KM. Association of angiotensin converting enzyme (ACE) gene polymorphism with hypertension in a Bangladeshi population. Bangladesh Med Res Counc Bull. 1998; 24:55–59. [PubMed]
9. Khanam MA., Qiu C., Lindeboom W. The metabolic syndrome: prevalence, associated factors, and impact on survival among older persons in rural Bangladesh. PLoS One. 2011;6: e20259. [PubMed]
10. Mohsin FS., Tayya B., Baker A. Prevalence of obesity among affluent school children in Dhaka. Mymensingh Med J. 2010; 19:549–554. [PubMed]
11. Rahman MM., Rabim MA., Nath RK. Prognostic role of C-reactive protein in acute stroke. Bangladesh J Med Sci. 2010; 10:29–33.
12. Alam DS., Chowdhury M.A.H., Siddiquee AT., Ahmed S. Niessen LW. Awareness and control of hypertension in Bangladesh: follow-up of a hypertensive cohort. BMJ Open. 2014;4: e004983. [PMC free article] [PubMed]
13. Majumder AAS., Karim MF., Rahman M.A. Study of association of C-reactive protein with coronary collateral development. Cardiovasc J. 2010; 3:26–32.
14. 34. National Low Birth Weight Survey of Bangladesh, 2003-2004. Bangladesh Bureau of Statistics, Planning Division, Ministry of Planning, Government of the People's Republic of Bangladesh; 2005.
15. Mohsin F., Baki F., Nahar J. Prevalence of metabolic syndrome among obese children and adolescents. Birdem Med J. 2011; 1:21–25.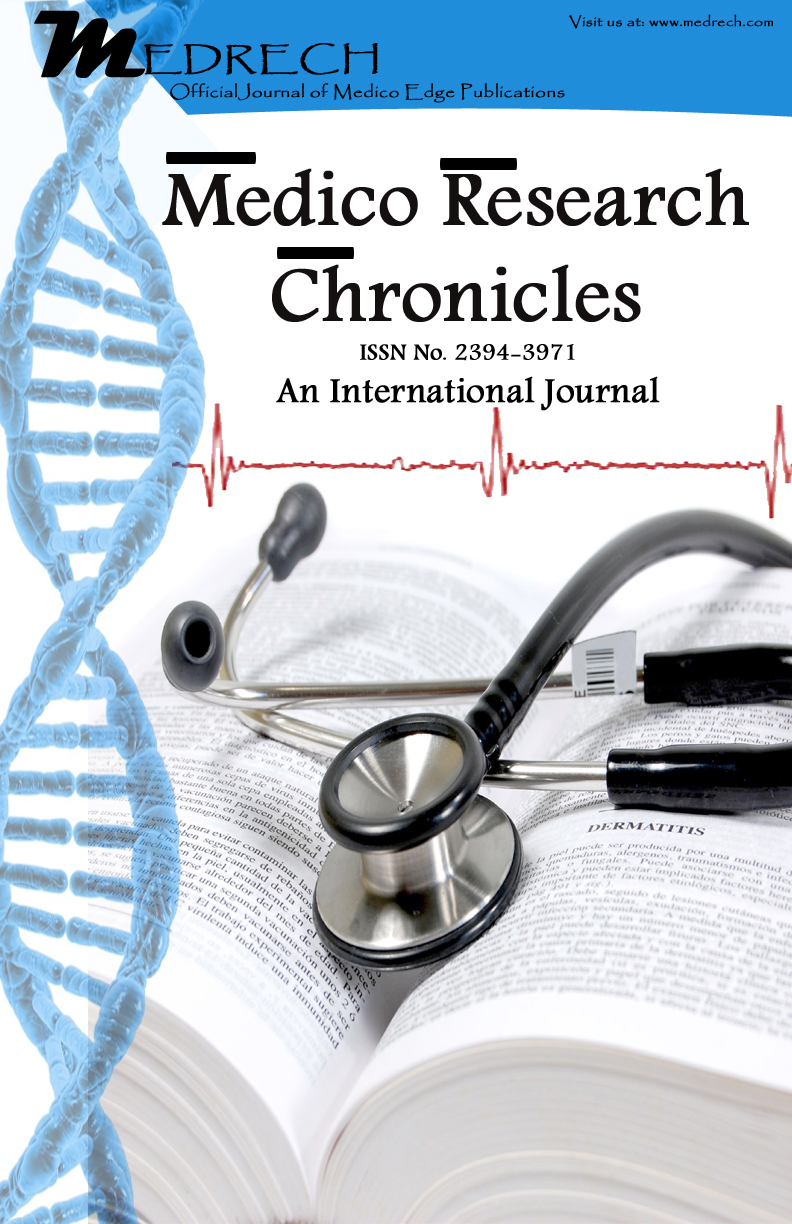 How to Cite
1.
Chowdhury LCSH, Tabassum R, Tarannum R, Kabir S. Knowledge about the risk factors and sign-symptoms of cardiovascular diseases among the patient's attendants at a specialized hospital in Bangladesh. Med. res. chronicles [Internet]. 2021Aug.30 [cited 2022Oct.3];8(4):363-9. Available from: https://medrech.com/index.php/medrech/article/view/526
Section
Original Research Article