Application of fluorescent microscopy for improved detection of acid fast bacilli in sputum smear preparation
Dr. Archana Maruti Panage

Assistant professor, Department of pathology, Rajiv Gandhi Medical College, Kalwa Thane, Maharashtra, India

Dr. Vivek D. Kharolkar

Assistant professor, Grant Government Medical College, Mumbai, Maharashtra

Dr. Shreeram W. Chopade

Associate professor, Department of pathology, Government Medical College, Akola, Maharashtra, India
Keywords:
Tuberculosis, Ziehl-Neelsen, Auramine – O Staining, Fluorescence, Microscopy, Sputum smear.
Abstract
Background: Tuberculosis remains a global health problem with an enormous burden of disease. Ziehl-Neelsen stain is the most commonly used method worldwide to detect tuberculous lymph node aspirates, however, Auramine – O Staining is being preferred owing to its high sensitivity, rapidity, and ease of screening. The aim of the present study was to compare the efficacy of fluorescent microscopy using Auramine O stain with conventional microscopy using Ziehl- Neelsen stain as a screening method to detect clinically suspected cases of pulmonary tuberculosis.
Method: A total of 100 clinically suspected cases of pulmonary tuberculosis referred to RNTCP laboratory from chest and TB OPD Medicine and Surgery and all other inpatient and out-patient departments were studied with detailed clinical history and sputum examination using Ziehl–Neelsen and Auramine O staining.
Results: Among 100 cases, 28% of cases were detected sputum smear-positive by Ziehl-Neelsen staining, and 30% cases were detected by Auramine O stain using a fluorescence microscope. Maximum sputum smears positive (36.6%) cases were in the age group of 31-40 years with male predominance (75%). Auramine O stain showed higher grading in 4 cases in which one case was scanty on Ziehl-Neelsen smear showed positive 1+ by Auramine O and other 2 cases which were negative by Ziehl-Neelsen stain were showed 1+ result on Auramine O stain. One case which showed 2+ grading on Ziehl-Neelsen stain showed 3+ grading with Auramine O stain. Fluorescence microscopy using Auramine O showed better grading than the Ziehl-Neelsen stain.
Conclusion: Fluorescence microscopy is more superior in detecting sputum smear-positive cases over Ziehl-Neelsen stain.
Downloads
Download data is not yet available.
References
Archana, A.R.K., Amar C. Sajjan, R. Kondal Rao, B. Archana and Swetha, G. 2018. A Comparative Study of Auramine Staining Using Light Emitting Diode (LED) Fluorescent Microscopy with Ziehl-Neelsen Staining for Detection of Acid Fast Bacilli in Sputum in a Tertiary Care Hospital, Karimnagar. Int. J. Curr. Microbiol. App. Sci. 2018;7(09):117-123.
Golia S, Hittinahalli V, Nirmala AR, Sangeetha KT, Kamath ASB. Comparative study of auramine staining using led fluorescent microscopy with Ziehl- Neelsen staining in the diagnosis of pulmonary tuberculosis; Journal of Evolution of Medical and Dental Sciences. 2013;2 (20): 3450-3456.
Gupta S, Shenoy VP, Bairy I, Muralidharan S. Diagnostic efficacy of Ziehl-Neelsen method against fluorescent microscopy in detection of acid fast bacilli; Asian Pacific Journal of Tropical Medicine 2010;328-329.
Marais BJ Brittle W Painczyk K Hesseling AC Beyhers N Wasserman E et al. Use of light emitting diode fluorescence microscopy to detect Acid-Fast Bacilli in sputum. CID 2008;47:203-07.
Jain RR Kaore NM Ramnani VK. Evaluation of fluorescent staining for improvement in diagnosis of pulmonary tuberculosis in sputum smear negative. International Journal of Pharma and Bio Sciences 2012;3(1):521-26.
Diagnosis of smear positive pulmonary tuberculosis. New guidelines, effective from 1st April 2009. Directorate General of Health services, Ministry of Health and Family Welfare New Delhi 2005. Available from : www.tbcindia.org.
Module for laboratory technicians. Central TB Division, Directorate General of Health Services, Ministry of Health and Family Welfare, New Delhi, June 2005.
QBC F.A.S.T. AFB Smear Kit. QBC Diagnostics Inc Philipsburg PA 16866.
Manual for sputum smear fluorescence microscopy under RNTCP by central TB division. Directorate General of Health services Ministry of Health and Family Welfare Govt. of India. 1998.
Bhumbla U, Gyaneshwari. A comparative study of Ziehl-Neelsen staining and auramine staining in sputum sample for the diagnosis of pulmonary tuberculosis. IJBR. 2014; 5:383-5.
Annam V, Kulkarni M, Puranik R. Comparison of the modified fluorescent method and conventional Ziehl-Neelsen method in the detection of acid fast bacilli in lymph node aspirates. Cytojournal.2009; 6:13.
Prasanthi K Kumari AR. Efficacy of fluorochrome stain in the diagnosis of pulmonary tuberculosis co-infected with HIV. Ind J Med Microbiol 2005;23(3):179-185.
Desai K Malek S Mehtaliya C. Comparative study of Ziehl-Neelsen staining v/s fluorochrome stain from pulmonary and extra-pulmonary tuberculosis. Gujarat Med J 2009;64(2):32-34.
Chakraborty AK. Epidemiology of tuberculosis : Current status in India. Indian J Med Res 2004;120:248-76.
Rao S. Tuberculosis and patient gender: An analysis and its implications in tuberculosis control, Lung India. 2009; 26(2): 46–47
Aziz R, Khan AR, Qayum I, ul Mannan M, Khan MT, Khan N. Presentation of pulmonary tuberculosis at Ayub Teaching Hospital Abbottabad. J Ayub Med Coll Abbottabad. 2002;14(1):6-9.
Kaur KP, Arora B, Chhina DK, Gupta V. Comprehensive evaluation of patient characteristics and clinical parameters as a diagnostic aid in tuberculosis. The Internet J Lab Med 2012;5(1).
Jamzad A, Shahnazi M, Khatami A, Azimi Gh, Khanbabaee Gh, Lalimi L, Mehrafarin M. Radiographic findings of pulmonary tuberculosis in Tehran in comparison with other institutional studies. Iran J Radiol 2009;6(3):131-36.
Kumar R, Vasantakumari. Demonstration of acid-fast bacilli in sputum smear examination: a viewpoint. Indian journal of tuberculosis. 1995;42:135–7.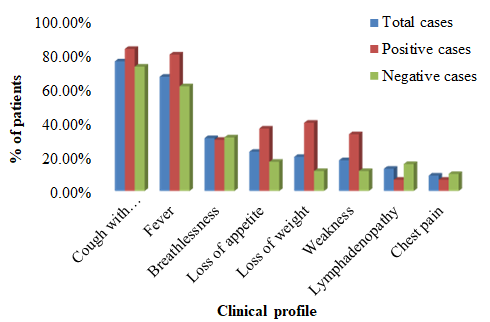 CITATION
DOI: 10.26838/MEDRECH.2021.8.5.559
How to Cite
1.
Panage AM, Kharolkar VD, Chopade SW. Application of fluorescent microscopy for improved detection of acid fast bacilli in sputum smear preparation. Med. res. chronicles [Internet]. 2021Oct.21 [cited 2022May22];8(5):439-47. Available from: https://medrech.com/index.php/medrech/article/view/534
Section
Original Research Article