Prevalence and Characterization of Labial Cervical Vertical Groove in maxillary permanent Incisors: an observational, cross-sectional study
Sonpimpale Pallavi S

Master of Dental Surgery in Periodontology, Ph.D. student in Periodontology, Assistant Professor, Department of Periodontology, Government Dental College and Hospital, Nagpur, India.

Prajakta Khairkar

MPH, New York University

Phadnaik Mangesh B.

Professor & Head, Department of Periodontology, Government Dental College Hospital, Nagpur.

Yeltiwar Ramreddy K.

Retired Professor & Head, V.Y.W.S. Dental College & Hospital, Amravati

Gaikwad Pramod K.

Bachelor of Medicine & Bachelor of Surgery, Master in Clinical Research, Research Coordinator, Department of Pulmonology and Critical Care, M.G.H., Harvard Medical School, USA
Keywords:
Surgery, maxillary incisor, labial cervical vertical groove (LCVG), gingival contour, gingival margin.
Abstract
Objective: To evaluate the prevalence and traits of Labial Cervical Vertical Groove in permanent maxillary incisors, its impact on accompanying gingiva, can cause periodontal, esthetic, and prosthetic concern.
Aim: The purpose of this study was to determine the frequency and attribute of LCVG in the specific tooth (central vs lateral incisor), side (unilateral vs bilateral, left vs right), and gender.
Settings and Design: An in vivo observational cross-sectional study.
Materials and Methods: An aggregate of 1800 people aged 18 and 60 were chosen at random and scrutinized for the existence of LCVG in an individual's maxillary permanent incisors. According to predetermined criteria, the deformity was categorized as mild, moderate, or severe. Normal, partial, and irregular gingival covering at the groove site were classified. The inclusion of a Palato-Radial Groove was also detected.
Results: LCVG was diagnosed in 123 patients (6.83%). In 59 (47.97%) of the individuals, it was unilateral, while in 64 (52.03%), it was bilateral. There was no evidence of sexual dimorphism or side prevalence. LCVG was identified in 187 (38%) of the 492 teeth in 123 participants. Mild LCVG was detected in 72 incisors, moderate in 83 incisors, and severe in 32 incisors, with a central to lateral incisor ratio of 186:1. In 123 incisors, the gingival contour was normal, partial in 59 incisors, and in 5 incisors it's irregular. In incisors with moderate or severe LCVG, the gingival recession was noted.
Conclusion: An LCVG is a malformation that affects the permanent central incisors of the maxilla. Increased severity of LCVG has deleterious repercussions on the periodontium, necessitating conscientious dental hygiene; accordingly, practitioners should be aware of this, and patients must be advised on the importance of maintaining good oral hygienic practices.
Downloads
Download data is not yet available.
References
Mass E, Aharoni K, Vardimon AD. Labial-cervical-vertical groove in maxillary permanent incisors—prevalence, severity, and affected soft tissue. Quintessence Int. 2005 Apr;36(4):281-6. PMID: 15835424. https://pubmed.ncbi.nlm.nih.gov/15835424/
Shpack N, Dayan T, Mass E, Vardimon AD. Labial cervical vertical groove (LCVG) distribution and morphometric characteristics. Arch Oral Biol. 2007 Nov;52(11):1032-6. doi: 10.1016/j. Arch oral Biol. 2007 Nov;52(11):1032-6. doi: 10.1016/j.archoralbio.2007.05.007. Epub 2007 Jul 23. PMID: 17643385. https://pubmed.ncbi.nlm.nih.gov/17643385/
Shah MP, Gujjari SK, Shah KM. Labial-cervical-vertical groove: A silent killer-Treatment of an intrabony defect due to it with platelet-rich fibrin. J Indian Soc Periodontol. 2014 Jan;18(1):98-101. doi: 10.4103/0972-124X.128260. PMID: 24744556; PMCID: PMC3988657. https://pubmed.ncbi.nlm.nih.gov/24744556/
Thomas J. Labial-cervical vertical groove. Journal of Interdisciplinary Dentistry. 2012 Jan;2(2):145. doi: 10.4103/2229-5194.100613. https://www.researchgate.net/publication/272896435_Labial-cervical_vertical_groove
Kozlovsky A, Tal H, Yechezkiely N, Mozes O. Facial radicular groove in a maxillary central incisor. A case report. J Periodontol. 1988 Sep;59(9):615-7. doi: 10.1902/jop.1988.59.9.615. PMID: 3183923. https://pubmed.ncbi.nlm.nih.gov/3183923/
S Ashwini, Singh N, Shetty B. Labial cervical vertical groove: hidden route to periodontal destruction. Journal of Dental & Oro-facial Research. 2014 Jan;12(1):36-40. http://www.jdorjournal.com/pdf/archives/Vol%2012%20issue%201%202016/8_Ashwini.pdf
Suchetha A, Heralgi R, Apoorva SM, Prasad R, Bharwani AG. An insight into tooth factors affecting periodontium. Indian Journal of Dental Sciences. 2012 June; 4(2): 001-6. E ISSN NO.2231-2293 P ISSN NO. 0976-4003.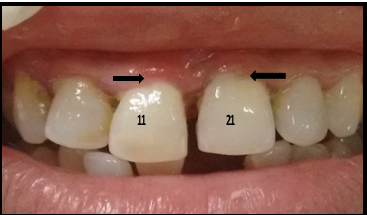 CITATION
DOI: 10.26838/MEDRECH.2021.8.5.563
How to Cite
1.
Sonpimpale PS, Khairkar P, Phadnaik MB, Yeltiwar RK, Gaikwad PK. Prevalence and Characterization of Labial Cervical Vertical Groove in maxillary permanent Incisors: an observational, cross-sectional study. Med. res. chronicles [Internet]. 2021Nov.3 [cited 2023Jun.10];8(5):462-70. Available from: https://medrech.com/index.php/medrech/article/view/539
Section
Original Research Article