Management of hypertension: Comparison of Telmisartan with other antihypertensive drugs
Dr. Sonal Kadam

MD (General Physician), Sai Nursing Home, Subhash Road, Mandar Nagar, Kolhapur 416003

Dr. Swapna Sri Boppana

MD (General Medicine), Swapna Clinic, H. No 40-24-1 Garikapativar Street, Main Road Patamatalanka, Vijayawada 520010

Dr. Sukanta Manna

MD (General Medicine), Day Care Tank More, Balurghat 733101

Dr. Suman Datta

MD (General Medicine), 101/4, Ashoknagar P.O Asoknagar, North 24 Parganas, West Bengal,743222

Dr. Sunil Karande

MD(General Medicine), Ganpati Hospital, Datta Nagar, Pandharpur, Maharashtra 413304
Keywords:
Angiotensin II receptor blockers (ARBs), Antihypertensive, Sartan, Olmesartan, Amlodipine
Abstract
Angiotensin II type 1 receptor antagonists (ARBs) are highly effective antihypertensive drugs used clinically for the management of hypertension, prevention of heart failure, and protecting diabetic nephropathy. Hypertension is the most prevalent lifestyle disease affecting the cardiovascular system and a major risk factor for stroke. The ARBs are very effective in decreasing elevated blood pressure (BP) to a normal level. Additionally, they do not have side effects like cough and angioedema, as shown by other classes of antihypertensive drugs like angiotensin-converting enzyme inhibitors. This feature makes ARBs the most preferred therapeutic strategy for hypertension. Telmisartan is an ARB, approved by the Food and Drug Administration for the treatment of hypertension in 1998, and is proven to provide efficient and lasting BP control when compared to other agents. This review highlights several clinical trials carried out to compare the efficacy, safety, and tolerability of telmisartan with other antihypertensive agents.
Downloads
Download data is not yet available.
References
Hermida RC, Ayala DE, Fernandez JR, Calvo C. Comparison of the efficacy of morning versus evening administration of telmisartan in essential hypertension. Hypertension. 2007;50(4):715-722.
Akhrass PR, McFarlane SI. Telmisartan and cardioprotection. Vasc Health Risk Manag. 2011;7:677-683.
Wienen W, Entzeroth M, van Meel JC, et al. A review on telmisartan: a novel, long‐acting angiotensin II‐receptor antagonist. Cardiovascular drug reviews. 2000;18(2):127-154.
Williams B, Lacourcière Y, Schumacher H, Gosse P, Neutel JM. Antihypertensive efficacy of telmisartan vs ramipril over the 24-h dosing period, including the critical early morning hours: a pooled analysis of the PRISMA I and II randomized trials. Journal of Human Hypertension. 2009;23(9):610-619.
Michel MC, Foster C, Brunner HR, Liu L. A systematic comparison of the properties of clinically used angiotensin II type 1 receptor antagonists. Pharmacological reviews. 2013;65(2):809-848.
White WB. Comparative effects of telmisartan in the treatment of hypertension. J Clin Hypertens (Greenwich). 2002;4(4 Suppl 1):20-25.
Nakayama S, Watada H, Mita T, et al. Comparison of effects of olmesartan and telmisartan on blood pressure and metabolic parameters in Japanese early-stage type-2 diabetics with hypertension. Hypertension research: official journal of the Japanese Society of Hypertension. 2008;31(1):7-13.
Sasaki T, Noda Y, Yasuoka Y, et al. Comparison of the effects of telmisartan and olmesartan on home blood pressure, glucose, and lipid profiles in patients with hypertension, chronic heart failure, and metabolic syndrome. Hypertension research: official journal of the Japanese Society of Hypertension. 2008;31(5):921-929.
Smith DH, Cramer MJ, Neutel JM, Hettiarachchi R, Koval S. Comparison of telmisartan versus losartan: a meta-analysis of titration-to-response studies. Blood pressure monitoring. 2003;8(3):111-117.
Kalikar M, Nivangune KS, Dakhale GN, et al. Efficacy and Tolerability of Olmesartan, Telmisartan, and Losartan in Patients of Stage I Hypertension: A Randomized, Open-label Study. Journal of pharmacology & pharmacotherapeutics. 2017;8(3):106-111.
Chen JH, Cheng JJ, Chen CY, et al. Comparison of the efficacy and tolerability of telmisartan 40 mg vs. enalapril 10 mg in the treatment of mild-to-moderate hypertension: a multicentre, double-blind study in Taiwanese patients. International journal of clinical practice Supplement. 2004(145):29-34.
Neutel JM, Smith DH, Reilly PA. The efficacy and safety of telmisartan compared to enalapril in patients with severe hypertension. International journal of clinical practice. 1999;53(3):175-178.
Neutel JM, Frishman WH, Oparil S, Papadimitriou V, Guthrie G. Comparison of telmisartan with lisinopril in patients with mild-to-moderate hypertension. American journal of therapeutics. 1999;6(3):161-166.
Poirier L, de Champlain J, Larochelle P, Lamarre-Cliche M, Lacourcière Y. A comparison of the efficacy and duration of action of telmisartan, amlodipine and ramipril in patients with confirmed ambulatory hypertension. Blood pressure monitoring. 2004;9(5):231-236.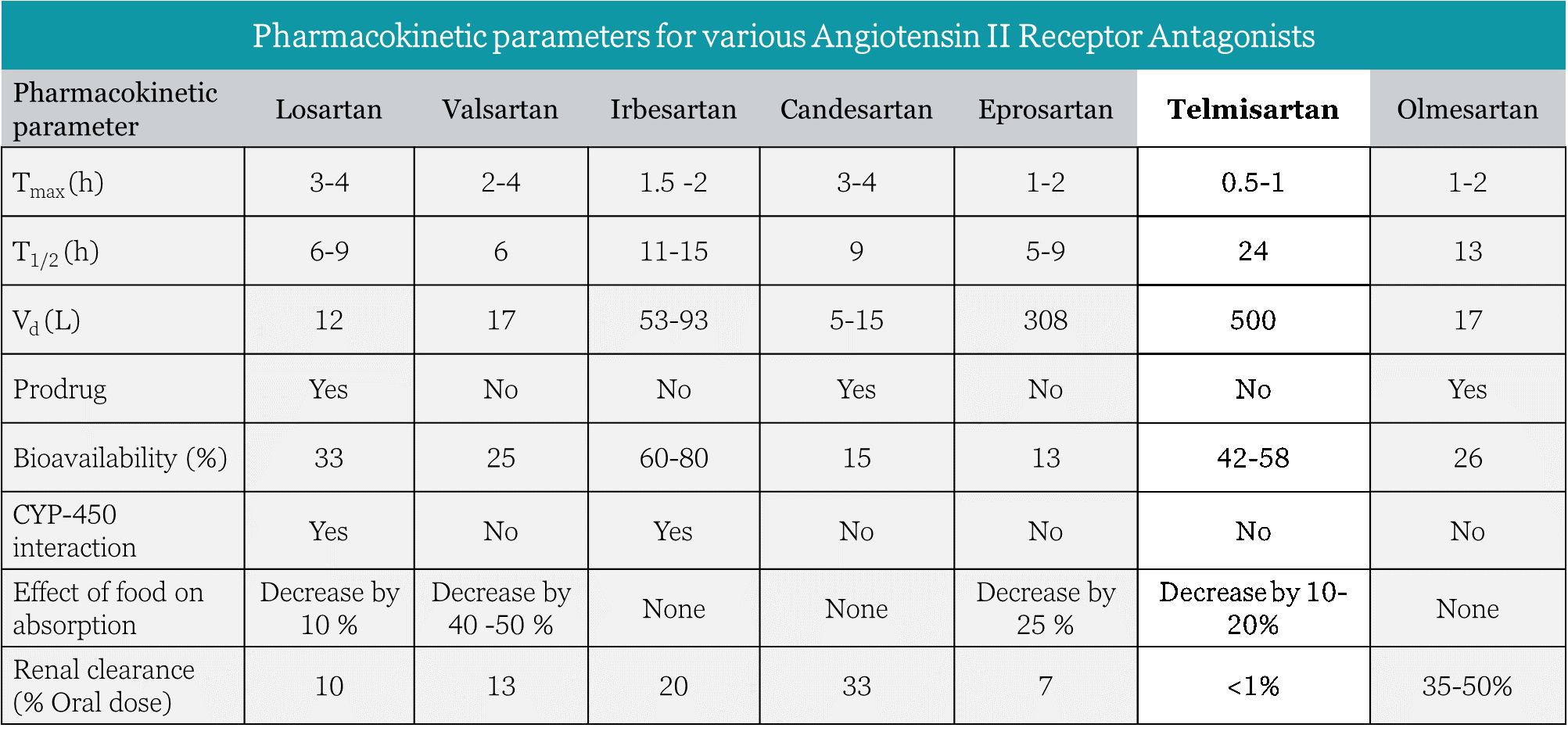 CITATION
DOI: 10.26838/MEDRECH.2022.9.2.584
How to Cite
1.
Kadam S, Sri Boppana S, Manna S, Datta S, Karande S. Management of hypertension: Comparison of Telmisartan with other antihypertensive drugs. Med. res. chronicles [Internet]. 2022Apr.9 [cited 2023Jun.10];9(2):88-3. Available from: https://medrech.com/index.php/medrech/article/view/567
Section
Original Research Article