New perspective with Gliclazide MR on screening and management of MODY patients in India
Dr. Prabir Kumar Biswas

MBBS, MD (General Physician), P-19 Raipur Road, Flat No-B2, Kolkata -700084

Dr. Subhasis Pramanik

Khirki Bagan Lane, Ward 3 Ranaghat, West Bengal Pin 741201

Dr. Rajesh Kumar Kewat

MBBS, MD (General Medicine), Marble City Hospital and Research Center, Napier Town Jabalpur, Madhya Pradesh 482001

Dr. R. M. Mundada

Consultant Physician, Ramraksha Hospital, Block No.- 602/1204 Manera Road, Ulhasnagar - IV, Ulhasnagar, Maharashtra 421004

Dr. Samiran Samui

MD (General Medicine), Manikat Arambagh, Hooghly, Burdhwan 712617
Keywords:
Gliclazide MR, MODY Patients, India, Diabetes
Abstract
Maturity-onset diabetes of the young (MODY) is a genetically heterogeneous group of monogenic endocrine disorders characterized by autosomal dominant inheritance and pancreatic β-cell dysfunction. Currently, 14 MODY subtypes have been identified, with differences in incidence, clinical features, diabetes severity and related complications, and treatment response. This type of diabetes is mostly misdiagnosed as either type 1 or type 2 diabetes mellitus because it is difficult to differentiate between these forms of diabetes due to clinical similarities, the high cost of genetic testing, and lack of awareness. The correct diagnosis for individuals with MODY is of utmost importance, as the applied treatment depends on the gene mutation or is subtype-specific. Sulphonylureas, specifically Gliclazide, has emerged as the drug of choice for MODY patients. This review will discuss the importance of screening in MODY patients and its management and the status of MODY patients in India.
Downloads
Download data is not yet available.
References
Laura S. Hoffman, Tamaryn J. Fox, Catherine Anastasopoulou, Ishwarlal Jialal. Maturity Onset Diabetes in the Young.; 2021. Accessed February 22, 2022. www.ncbi.nlm.nih.gov/books/NBK532900
Skoczek D, Dulak J, Kachamakova-Trojanowska N. Maturity onset diabetes of the young—new approaches for disease modelling. International Journal of Molecular Sciences. 2021;22(14). doi:10.3390/ijms22147553
Tshivhase A, Matsha T, Raghubeer S. Diagnosis and Treatment of MODY: An Updated Mini Review. Published online 2021. doi:10.3390/app
Doddabelavangala Mruthyunjaya M, Chapla A, Hesarghatta Shyamasunder A, et al. Comprehensive Maturity Onset Diabetes of the Young (MODY) Gene Screening in Pregnant Women with Diabetes in India. PLOS ONE. 2017;12(1):e0168656. doi:10.1371/journal.pone.0168656
Khunti K, Hassanein M, Lee MK, Mohan V, Amod A. Role of Gliclazide MR in the Management of Type 2 Diabetes: Report of a Symposium on Real-World Evidence and New Perspectives. Diabetes Therapy. 2020;11(S2):33-48. doi:10.1007/s13300-020-00833-x
Chakera AJ, Steele AM, Gloyn AL, et al. Recognition and Management of Individuals With Hyperglycemia Because of a Heterozygous Glucokinase Mutation. Diabetes Care. 2015;38(7):1383-1392. doi:10.2337/dc14-2769
Gardner D, Tai ES. Clinical features and treatment of maturity onset diabetes of the young (MODY). Diabetes, Metabolic Syndrome and Obesity: Targets and Therapy. Published online May 2012:101. doi:10.2147/DMSO.S23353
Shepherd MH, Shields BM, Hudson M, et al. A UK nationwide prospective study of treatment change in MODY: genetic subtype and clinical characteristics predict optimal glycaemic control after discontinuing insulin and metformin. Diabetologia. 2018;61(12):2520-2527. doi:10.1007/s00125-018-4728-6
Pearson ER, Starkey BJ, Powell RJ, Gribble FM, Clark PM, Hattersley AT. Genetic cause of hyperglycaemia and response to treatment in diabetes. The Lancet. 2003;362(9392):1275-1281. doi:10.1016/S0140-6736(03)14571-0
Gujral UP, Pradeepa R, Weber MB, Narayan KMV, Mohan V. Type 2 diabetes in South Asians: similarities and differences with white Caucasian and other populations. Annals of the New York Academy of Sciences. 2013;1281(1):51-63. doi:10.1111/j.1749-6632.2012.06838.x
Shah A, Kanaya AM. Diabetes and Associated Complications in the South Asian Population. Current Cardiology Reports. 2014;16(5):476. doi:10.1007/s11886-014-0476-5
Mohan V, Radha V, Nguyen TT, et al. Comprehensive genomic analysis identifies pathogenic variants in maturity-onset diabetes of the young (MODY) patients in South India. BMC Medical Genetics. 2018;19(1):22. doi:10.1186/s12881-018-0528-6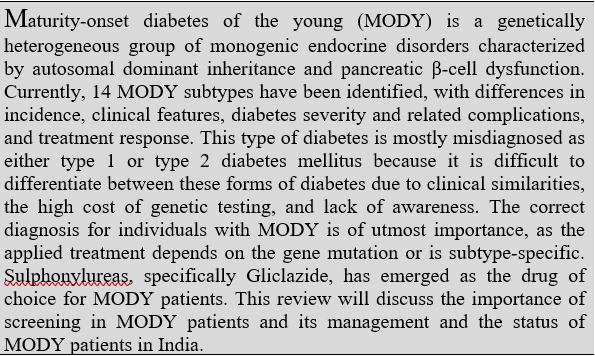 CITATION
DOI: 10.26838/MEDRECH.2022.9.2.590
How to Cite
1.
Biswas PK, Pramanik S, Kewat RK, Mundada RM, Samui S. New perspective with Gliclazide MR on screening and management of MODY patients in India. Med. res. chronicles [Internet]. 2022Apr.9 [cited 2022May22];9(2):116-20. Available from: https://medrech.com/index.php/medrech/article/view/571
Section
Original Research Article