Prevalence and antimicrobial susceptibility pattern of pseudomonas aeruginosa isolated from clinical samples in Jashore Medical College Hospital.
Dr. Seema Saha

Assistant professor, Department of Microbiology, Jashore Medical College, Jashore, Bangladesh.

Dr. Debasish Dutta

Assistant professor, Department of Medicine, Jashore Medical College, Jashore, Bangladesh

Dr. Goutam Kumar Ghosh

Assistant professor, Department of Medicine, Jashore Medical College, Jashore, Bangladesh

Dr Ripa Sinthia Biswas

Assistant Professor, Department of Community Medicine, Jashore medical college, Jashore, Bangladesh

Dr. Surovi Era Suchi

Associate Professor, Department of microbiology, Addin sakina medical college hospital, Jashore, Bangladesh.
Keywords:
Pseudomonas aeruginosa, Antibiotic Susceptibility Testing, Antipseudomonal Agents, Tazobactam, Aztreonam, Multi Drug Resistance (MDR)
Abstract
Background: Pseudomonas aeruginosa is one of the leading causes of hospital-acquired infections. Increased resistance in this organism continues to pose a significant threat to patient care because of limited therapeutic options. The main objective of this study was to find out the prevalence and current antimicrobial susceptibility pattern of P. aeruginosa isolates obtained from various clinical samples at a tertiary care hospital.
Methods: The study was conducted in the Bacteriology laboratory of the Department of Microbiology, Jashore Medical College Hospital, Jashore, Bangladesh.  All clinical samples received from various departments from January 2021 to December 2021. The colonies which were grown on culture media were identified by different standard biochemical tests. Antimicrobial susceptibility testing was done using Kirby–the Bauer disc diffusion method and the results were interpreted according to the CLSI guidelines. Quality control of the test was done by standards ATCC strain of P. aeruginosa 27853.
Result: A total of 167 cultured organisms were recorded and analyzed in this study. Among 167 cultured organisms, there were 37 isolates identified as P. aeruginosa. Among the antibiotic sensitivity patterns of P. aeruginosa, we found that the most sensitive drug was colistin 35 (94.59%), followed by levofloxacin 31(83.78%), cefuroxime axetil 29(78.38%), gentamicin 26(70.27%), and each cefperazone+sulbactum & netilmicin has a percentage of 24(64.86%) On the other hand, we found P.aeruginosa showed resistance towards Ofloxacin 24(64.86%), Piperacillin 23(62.16%), Ceftazidime 21(56.76%), Cefoprazone 20(54.05%), Cefipime 20(54.05%), Aztreonam 19(51.35%), Cefaprazone + sulbactum 16(43.24%) and Gentamycin 17(45.00%).
Conclusion: Most of the P. aeruginosa strains were isolated from sputum, urine, respiratory secretions and pus samples and were found to be MDR. Piperacillin-tazobactam was the most sensitive chemotherapeutic agent followed by Colistin and levofloxacin.
Downloads
Download data is not yet available.
References
Palleroni NJ. Introduction to the family Pseudomonadaceae. In The prokaryotes 1981 (pp. 655-665). Springer, Berlin, Heidelberg.
Mohanty S, Baliyarsingh B, Nayak SK. Antimicrobial Resistance in Pseudomonas aeruginosa: A concise review. Antimicrobial Resistance-A One Health Perspective. 2020 Feb 6.
Rahman MA, Nair PO. Prevalence And Antibiotic Susceptibility Pattern Of Pseudomonas Species Isolated From Clinical Samples In A Tertiarycare hospital. International Journal of Current Pharmaceutical Research. 2021; 13(1):50-3.
Bekele T, Tesfaye A, Sewunet T, Waktola HD. Pseudomonas aeruginosa isolates and their antimicrobial susceptibility pattern among catheterized patients at Jimma University Teaching Hospital, Jimma, Ethiopia. BMC research notes. 2015 Dec; 8(1):1-4.
Deshmukh KA, Manthale D. Prevalence and antibiotic susceptibility of Pseudomonas aeruginosa isolated from chronic suppurative otitis media. International Journal of Otorhinolaryngology and Head and Neck Surgery. 2017 Jan; 3(1):56-60.
Yayan J, Ghebremedhin B, Rasche K. Antibiotic resistance of Pseudomonas aeruginosa in pneumonia at a single university hospital center in Germany over a 10-year period. Plos one. 2015 Oct 2; 10(10):e0139836.
Alnour TM, Ahmed-Abakur EH. Multidrug resistant Pseudomonas (P) aeruginosa: medical impact, pathogenicity, resistance mechanisms and epidemiology. JSM Microbiol. 2017; 5(3):1046.
Juayang AC, Lim JP, Bonifacio AF, Lambot AV, Millan SM, Sevilla VZ, Sy JK, Villanueva PJ, Grajales CP, Gallega CT. Five-year antimicrobial susceptibility of Pseudomonas aeruginosa from a local tertiary hospital in Bacolod City, Philippines. Tropical medicine and infectious disease. 2017 Jul 12; 2(3):28.
Ohmagari N, Hanna H, Graviss L, Hackett B, Perego C, Gonzalez V, et al. Risk factors for infections with multidrug-resistant Pseudomonas aeruginosa in patients with cancer. Cancer 2005; 104:205-12.
Aloush V, Navon-Venezia S, Seigman-Igra Y, Cabili S, CarmeMultidrug-resistantistant Pseudomonas aeruginosa: Risk factors and clinical impact. Antimicrobial Agents Chemotherapy 2006; 50:43-8.
Arruda EA, Marinho IS, Boulos M, Sinto SI, Caiaffa HH, Mendes CM, et al. Nosocomial infections caused by multiresistant Pseudomonas aeruginosa. Infect Control Hosp Epidemiology 1999; 20:620-3.
Dash M, Padhi S, Narasimham MV, Pattnaik S. Antimicrobial resistance pattern of Pseudomonas aeruginosa isolated from various clinical samples in a tertiary care hospital, South Odisha, India. Saudi J Health Sci 2014; 3:15-9
Zavascki AP, Carvalhaes GC, Picão RC, Gales AC. Multidrugresistant Pseudomonas aeruginosa and Acinetobacter baumannii: resistance mechanisms and implications for therapy. Expert Rev Anti-Infect Ther. 2010;8(1):71-93. doi: 10.1586/eri.09.108
Falagas ME, Koletsi PK, Bliziotis IA. The diversity of definitions of multi-drug resistant (MDR) and pandrug-resistant (PDR) Acinetobacter baumannii and Pseudomonas aeruginosa. J Med Microbiol. 2006;55:1619-1629. doi 10.1099/jmm.0.46747-0
Hidron AI, Edwards JR, Patel J, Horan TC, Sievert DM, Pollock DA, et al. NHSN annual update: antimicrobial-resistant pathogens associated with healthcare-associated infections: annual summary of data reported to the National Healthcare Safety Network at the Centers for Disease Control and Prevention, 2006–2007. Infect Control Hosp Epidemiol. 2008;29:996–1011. doi: 10.1086/591861.
Magiorakos AP, Srinivasan A, Carey RB, Carmeli Y, Falagas ME, Giske CG, et al. Multidrug-resistant, extensively drug-resistant and pandrug-resistant bacteria: an international expert proposal for interim standard definitions for acquired resistance. Clin Microbiol Infect. 2012;18(3):268-281. doi: 10.1111/j.1469-0691.2011.03570.x
Tadvi J, Javadekar TB, Bhavsar R, Garala N. Prevalence & antibiogram of Pseudomonas aeruginosa at SSG hospital, Baroda, Gujarat, India. J Res Med Den Sci. 2015 Jan; 3(3):204-7.
Javiya VA, Ghatak SB, Patel KR, Patel JA. Antibiotic susceptibility patterns of Pseudomonas aeruginosa at a tertiary care hospital in Gujarat, India. Indian journal of pharmacology. 2008 Oct; 40(5):230.
Kiran R, Bharti A, Himanshu A. Pseudomonas aeruginosa isolation of post-operative wound in a referral hospital in Haryana, India. Journal of Infectious Diseases and Antimicrobial Agents. 2009; 26(2):43-8.
Singh B, Purohit M, Mutha A. Antimicrobial susceptibility pattern of clinical isolates of Pseudomonas aeruginosa in a tertiary care hospital of central India.
Shampa A, Bhattacharjee A, Garg A, Sen MR. Antimicrobial susceptibility of P. aeruginosa isolated from wound infection. Ind J Dermatol. 2006; 51(4):286-8.
Ninama GL, Mistry K, Parmar R, Patel K, Vegad MM. Antibiotic resistance pattern in Pseudomonas aeruginosa species isolated at a tertiary care hospital, Ahmadabad. National journal of medical research. 2012 Jun 30; 2(02):156-9.
Agarwal G, Kapil A, Kabra SK, Das BK, Dwivedi SN. Characterization of Pseudomonas aeruginosa isolated from chronically infected children with cystic fibrosis in India. BMC microbiology. 2005 Dec; 5(1):1-1.
Arora D, Jindal N, Kumar R, Romit M. Emerging antibiotic resistance in Pseudomonas-A challenge. Int J Pharm Pharm Sci. 2011; 3(2):82-4.
Bhatt P, Rathi KR, Hazra S, Sharma A, Shete V. Prevalence of multidrug resistant Pseudomonas aeruginosa infection in burn patients at a tertiary care centre. Indian Journal of Burns. 2015 Jan 1; 23(1):56.
Singh B, Purohit M, Mutha A. Antimicrobial susceptibility pattern of clinical isolates of Pseudomonas aeruginosa in a tertiary care hospital of central India.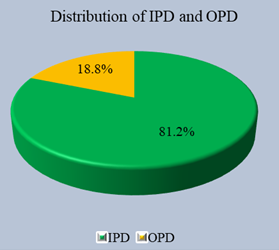 CITATION
DOI: 10.26838/MEDRECH.2022.9.6.638
How to Cite
1.
Saha S, Dutta D, Ghosh GK, Biswas RS, Suchi SE. Prevalence and antimicrobial susceptibility pattern of pseudomonas aeruginosa isolated from clinical samples in Jashore Medical College Hospital. Med. res. chronicles [Internet]. 2022Nov.16 [cited 2022Nov.27];9(6):416-24. Available from: https://medrech.com/index.php/medrech/article/view/616
Section
Original Research Article