Surgical Airway management in Critically ill Patients: A Review article
Mohammed Shabbir Pyarejan

Emergency Physician
Keywords:
Tracheostomy, Endotracheal intubation, critically ill patient, Mechanical ventilation
Abstract
Abstract: -
Tracheostomy is among the most frequently performed procedures in critically ill patients, being done in medical and surgical intensive care units (ICUs).1,2,3,4., there is little agreement on the indications, timing of tracheostomy in critically ill patients. The most common indication for tracheostomy in the ICU is need for prolonged mechanical ventilation.7, 8. Tracheostomy has several advantages over endotracheal intubation, Recent ACCP (American college of chest physicians) guidelines 22 suggest that tracheostomy should be considered after an initial period of stabilization on the ventilator, when it becomes apparent that the patient will require prolonged ventilator assistance. Despite having been a known about the complications of prolong ETT insitu, the specifics of how, when, and why to perform a surgical airway are still debated. New methods of surgical airway management have to be evaluated against the gold standard, which will always be the open tracheostomy. Today we have to evaluate these new procedures not only by their efficacy but also by their cost effectiveness.
Downloads
Download data is not yet available.
References
Aass AS: Complications due to trac heostomy and long- term intubat ion: A follow-up study. Acta Anaes thesiol Scand 19:127-133, 1975
Bishop MJ: Mechanisms of laryngotracheal injury following prolonged tracheal intubation. Chest 96:185, 1989
Bishop MJ: The timing of tracheotomy: An evolving consensus. Chest 96:712-713, 1989.
Bishop MJ, Weymuller EA, Fink BR: Laryngeal effects of prolonged intubation. Anesth Analg 63:335-342, 1984
Brantigan CO, Grow JB: Cricrothyroidotomy: Elective use in respiratory problems requiring tracheostomy. J Thorac Cardiovasc Surg 71:72-80, 1976
Burkey B, Esclamado R, Morganroth M: The role of cricothyroidotomy in airway management. Clin Chest Med 12:561-571, 1991
Ciaglia P, Firsching R, Syniec C: Elective bedside percutaneous tracheostomy, a new simple bedside procedure: Preliminary report. Chest 87:715-719, 1985
Cole RR, Aguilar EA: Cricothyroidotomy versus tracheostomy: An otolaryngologist's perspective. Laryngoscope 98:131-135, 1988.
Colice GL, Stukel TA, Dain B: Laryngeal complications of prolonged intubation. Chest 96:877-884, 1989.
DeLaurier GA, Hawkins ML, Treat RC, et al: Acute airway management: Role of cricothyroidotomy. Am Surg 56:12-15, 1990
Dulguerov P, Gysin C, Pernaeger TV, et al: Percutaneous or surgical tracheostomy: A meta-analysis. Crit Care Med 27:1617-1625, 1999.
Gaynor EB, Greenberg SB: Untoward sequelae of prolonged intubation. Laryngoscope 95:1461-1467, 1985
Graham JS, Mulloy RH, Sutherland FR, et al: Percutaneous versus open tracheostomy: A retrospective cohort outcome study. J Trauma 41:245-250, 1996
G rillo HC , Cooper JD , Geffin B, et al: A low pres sure cuff for tracheostomy to minimize trachea l injury: A comparative clinical trial. J Thorac Cardiovasc Surg 63:898-903, 1971
Gysin C, Dulguerov P, Guyot JP, et al: Percutaneous versus surgical tracheostomy: A double-blind randomized trial. Ann Surg 230:708-714, 1999.
Hill BB, Zweng TN, Maley RH, et al: Percutaneous dilatational tracheostomy: Report of 356 cases. J Trauma 41:238-244, 1996.
Holst M, Her tegard S, Persson A: V ocal d ysfun ction fo llowing crico thyroid otomy: A prospe ctive study Laryngoscope 100:749-755, 1990.
Indek M, Peterson S, Smith J, et al: Risks, costs, and benefit of transporting ICU patients for special studies. J Trauma 28:1020-1025, 1988.
Isaacs JH, Pedersen AD: Emergency cricothyroidotomy. Am Surg 63:346-349, 1997
Jackson C: High tracheostomy and other errors, the chief causes of chronic laryngeal stenosis. Surg Gynecol Obstet 32:292, 1921
Jackson C: Tracheostomy. Laryngoscope 19:285-290, 1909
Kaloud H, Freya-Maria SJ, Gerhard P, et al: Iatrogenic ruptures of the tracheobronchial tree. Chest 112:774-778, 1997.
Lanza DC, Parnes SM, Koltai PJ, et al: Early complications of airway management in head-injured patients. Laryngoscope 100:958-961, 1990
Lewis FR, Scholbohm RM, Thomas AN: Prevention of complications from prolonged tracheal intubations. Am J Surg 135:452, 1978
Lewis RJ: Tracheostomies: Indications, timing and complications. Clin Chest Med 13:137-149, 1992.
Lindholm CE: Prolonged endotracheal intubation. Acta Anesth Scand 33(suppl):1, 1969.
M oe KS, S Toeckli SJ, Schmid S, et a l: Percutaneous tracheostom y: A comprehensive evaluation. Ann Oto R hino Laryngol 108:384-391, 1999
Pierce WS, Tyers GFO, Walhausen JA: Effective isolation of a tracheostomy from a sternal wound. J Thorac Cardiovasc Surg 66:841-842, 1973.
Plummer A, Gracey D: Consensus conference on artificial airways in patients receiving mechanical ventilation. Chest 96:178-193, 1989.
Randell TT, Tierala EK, Lepantalo MJ, et al: Prophylactic minitracheostomy after thoracotomy: A prospective, random control, clinical trial. Eur J Surg 157:501-504, 1991.
Reilly PM, Sing RF, Giberson FA, et al: Hypercapnia during tracheostomy: A comparison of percutaneous endoscopic, percutaneous Doppler, and standard surgical tracheostomy. Intens Care Med 24:279-285, 1998
Rodriquez JL, Steinberg SM, Luchetti FA, et al: Early tracheostomy for primary airway management in the surgical critical care setting. Surgery 108:655-659, 1990.
S tauffer JL, Olson DE, Petty TL: Com plications and consequences of endotracheal intubation and tracheostomy: A prospective study of 150 critically ill patients. Am J Med 70:65-76, 1981
Stone DJ, Bogdonoff DL: Airway considerations in the management of patients requiring long-term endotracheal intubation. Anesth Analg 74:276-287, 1992
Stuffer JL, Olson DE, Petty TL: Complications and consequences of endotracheal intubation and tracheostomy. Am J Med 70:65-76, 1981
Sugerman H J, Wolfe L, Pasquale MD, et al: Multicenter, randomized, prospective trial of early tracheostomy. J Trauma 43:741-747, 1997
Tarnoff M, Moncure M, Jones F, et al: The value of routine posttracheostomy chest radiography. Chest 113:1647-1649, 1998
Taylor JO, Chulay, Landers CF, et al: Monitoring high-risk cardiac patients during transport in the hospital. Lancet 2:1205-1208, 1970.
Toye FJ, Weinstein JD: A percutaneous tracheostomy device. Surgery 65:384, 1969.
van Heurn LW, van Geffen G J, Brink PR: Percutaneous subcricoid minitracheostomy: A report of 50 cases. A Thorac Surg 59:707-709, 1995
Wease GL, Frikker M, Villalba M, et al: Bedside tracheostomy in the intensive care unit. Arch Surg 131:552-555, 1996
Whited RE: A retrospective study of laryngotracheal sequelae in long-term intubation. Laryngoscope 94:367, 1984
Ya ng FY, Criado E, S chwartz JA, et al: Trac hea-innominate arte ry fistula: Retrospective comparison of treatment methods. South Med J 81:701-706, 1988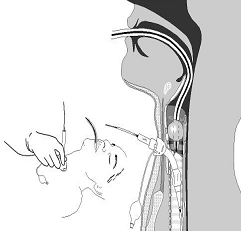 CITATION
DOI: 10.26838/MEDRECH.2023.10.1.674
How to Cite
1.
Pyarejan MS. Surgical Airway management in Critically ill Patients: A Review article. Med. res. chronicles [Internet]. 2023Jan.5 [cited 2023Feb.9];10(1):01-3. Available from: https://medrech.com/index.php/medrech/article/view/651