Prevalence of LV diastolic dysfunction in people with type 2 diabetes mellitus with a normal systolic function
Dr. Sanjay Sud

Visiting Consultant, Department of Medicine, Konnagar Matri Sadan Municipal Hospital, Konnagar, District-Hooghly, W.B.
Keywords:
Left Ventricular Diastolic Dysfunction, Left Ventricular Ejection Fraction, Sodium-Glucose co-Transporter 2 inhibitors, Heart Failure
Abstract
Background and Aims: To determine the incidence of LV diastolic dysfunction (LVDD) in type 2 diabetics having a normal LV systolic function. This observational study aimed to determine the prevalence of LVDD in a normotensive T2DM population with a preserved Left Ventricular Ejection Fraction (LVEF) and to impress the importance of initiating early therapy with agents like SGLT2 inhibitors.
Materials and Methods: Persons diagnosed with T2DM underwent standard TTE and assessment of their LVEF and grading of LV diastolic dysfunction. LVEF ≥ 50% was considered as normal. All the subjects underwent resting transthoracic 2-dimensional echocardiography and Doppler imaging, to assess left ventricular systolic and diastolic function. A total of 2,150 cases were assessed at the hospital, over 4 years.
Results: Of the 2,150 cases included 56% (1204) were males, and 44% (946) were females,
 72% (1548), [59% males and 41% females] had Grade I LV diastolic dysfunction.
Conclusion: This observational study concludes that there is a huge prevalence of LV diastolic dysfunction, in people with T2DM, which is an important risk factor for cardiac morbidity and mortality, which may lead to the development of overt heart failure and progression to coronary artery disease if not corrected early.
Downloads
Download data is not yet available.
References
Natl Med J India. 2010 Sep-Oct; 23(5): 283–288.
National Commission on Population, Government of India. [3 March 2010]; Available at http://populationcommission.nic.in/
Gupta R, Joshi P, Mohan V, Reddy KS, Yusuf S. Epidemiology and causation of coronary heart disease and stroke in India. Heart. 2008; 94:16–26.
Yusuf S, Sleight P, Pogue J, Bosch J, Davies R, Dagenais G. Effects of an angiotensin-converting-enzyme inhibitor, ramipril, on cardiovascular events in high-risk patients. The Heart Outcomes Prevention Evaluation Study Investigators. N Engl J Med. 2000; 342:145–53.
Vakil RJ. A statistical study of 1281 cases of congestive cardiac failure or myocardial insufficiency in India. Indian Physician. 1949; 8:281–9.
Rodgers A, Ezzati M, Vander Hoorn S, Lopez AD, Lin RB, Murray CJ. Comparative risk assessment collaborating group distribution of major health risks: Findings from the global burden of disease study. PLoS Med. 2004;1: e27.
Oh JK. Echocardiography in heart failure: beyond diagnosis. Eur J Echocardiogr. 2007; 8(1):4-14.
St. John Sutton MG, Plappert T, Rahmouni H. Assessment of left ventricular systolic function by echocardiography. Heart Fail Clin. 2009;5(2):177-190.
Ammar KA, Jacobsen SJ, Mahoney DW, et al. Prevalence and prognostic significance of heart failure stages: application of the American College of Cardiology/American Heart Association heart failure staging criteria in the community. Circulation. 2007; 115(12): 1563–1570.
Oktay AA, Rich JD, Shah SJ. The emerging epidemic of heart failure with preserved ejection fraction. Curr Heart Fail Rep. 2013;10(4):401–410.
Burke MA, Katz DH, Beussink L, et al. Prognostic importance of pathophysiologic markers in patients with heart failure and preserved ejection fraction. Circ Heart Fail. 2014;7(2):288–299.
Kane GC, Karon BL, Mahoney DW, et al. Progression of left ventricular diastolic dysfunction and risk of heart failure. JAMA. 2011;306(8):856–863.
N Engl J Med. Emperor Preserve Trial Oct. 14, 2021; 385:1451-1461
N Engl J Med EmpaReg Trial Nov 26, 2015; 373:2117-2128
N Engl J Med, DAPA-HF Trial, Nov 21, 2019; 381:1995-2008
European Journal of Echocardiography, Volume 8, Issue 1, January 2007, Pages 4–14,
How to diagnose heart failure: a consensus statement on the diagnosis of heart failure with normal left ventricular ejection fraction by the Heart Failure and Echocardiograph Associations of the European Society of Cardiology. Eur. Heart Journal 2007; 28:2539-2550.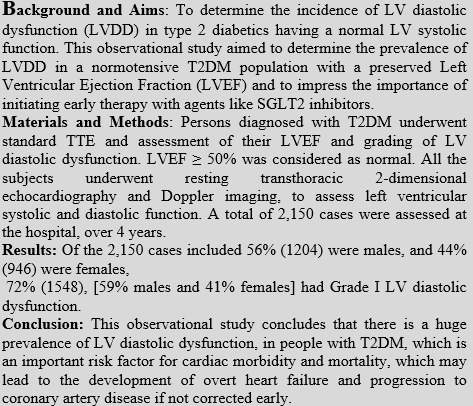 CITATION
DOI: 10.26838/MEDRECH.2023.10.1.676
How to Cite
1.
Sud S. Prevalence of LV diastolic dysfunction in people with type 2 diabetes mellitus with a normal systolic function. Med. res. chronicles [Internet]. 2023Jan.7 [cited 2023Feb.9];10(1):47-0. Available from: https://medrech.com/index.php/medrech/article/view/656
Section
Original Research Article